The "Kaufmannshof" building complex in Mainz is picturesquely situated between canals and the Rhine on a harbor island at the Mainzer Zollhafen. Surrounded by water, the area also includes a commercially used part of the property. An attractively landscaped inner courtyard serves as an oasis for recreation and encounters. Take a seat by the water - anchor in the Kaufmannshof!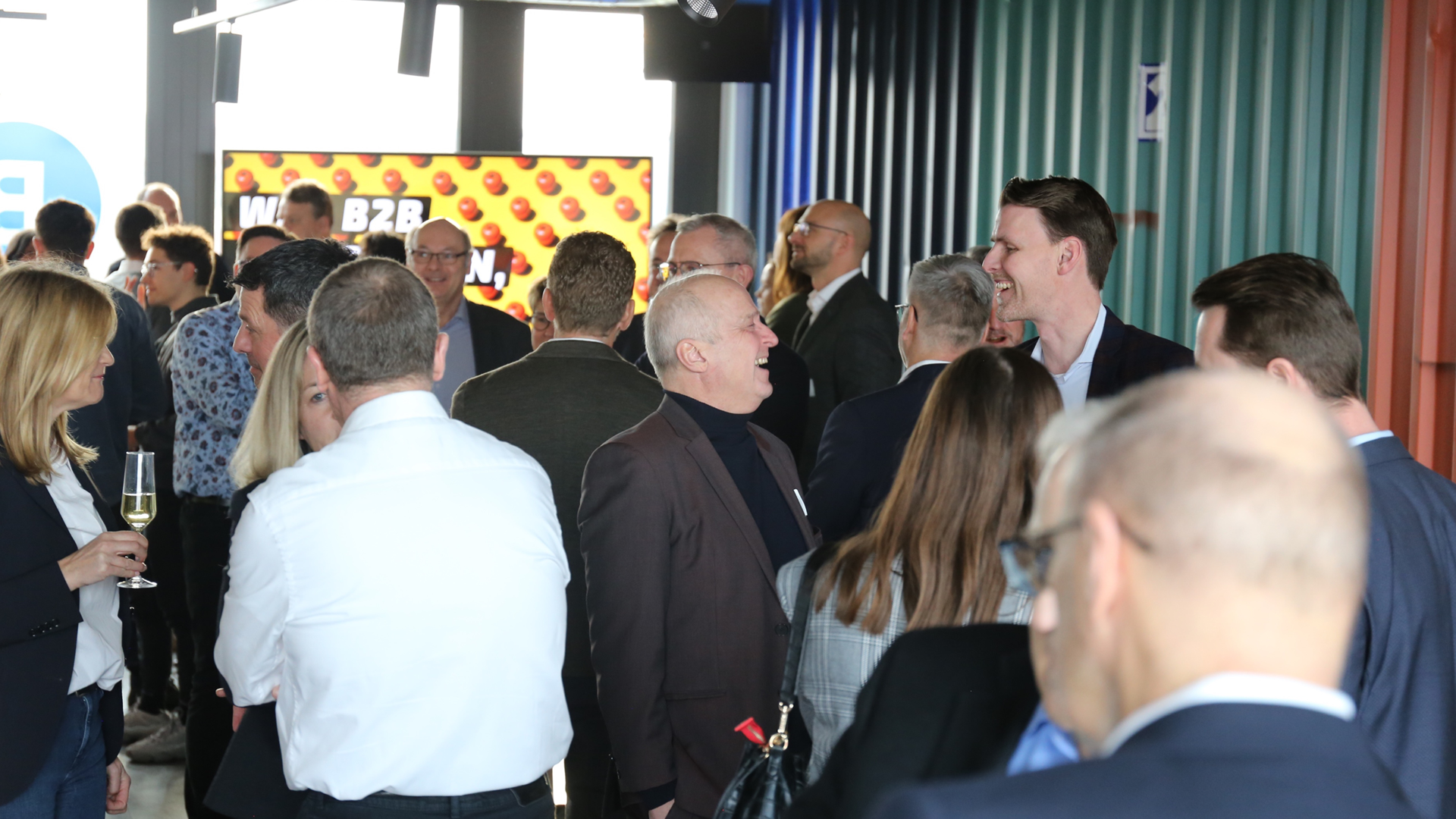 Flexible location for 2 to 80 people:
Whether a workshop in our docks, an after-work party at Kai 17 or a film shoot at Pier 3 - we can make it happen!
Think about the important things for a change. In Dock 1 + 2, the conference, meeting or workshop spaces in the Kaufmannshof. Whether collaborative, hybrid or simply classic meet. Our spaces meet all the requirements of the modern conference and meeting world, whether for two-hour, half-day or full-day conferences.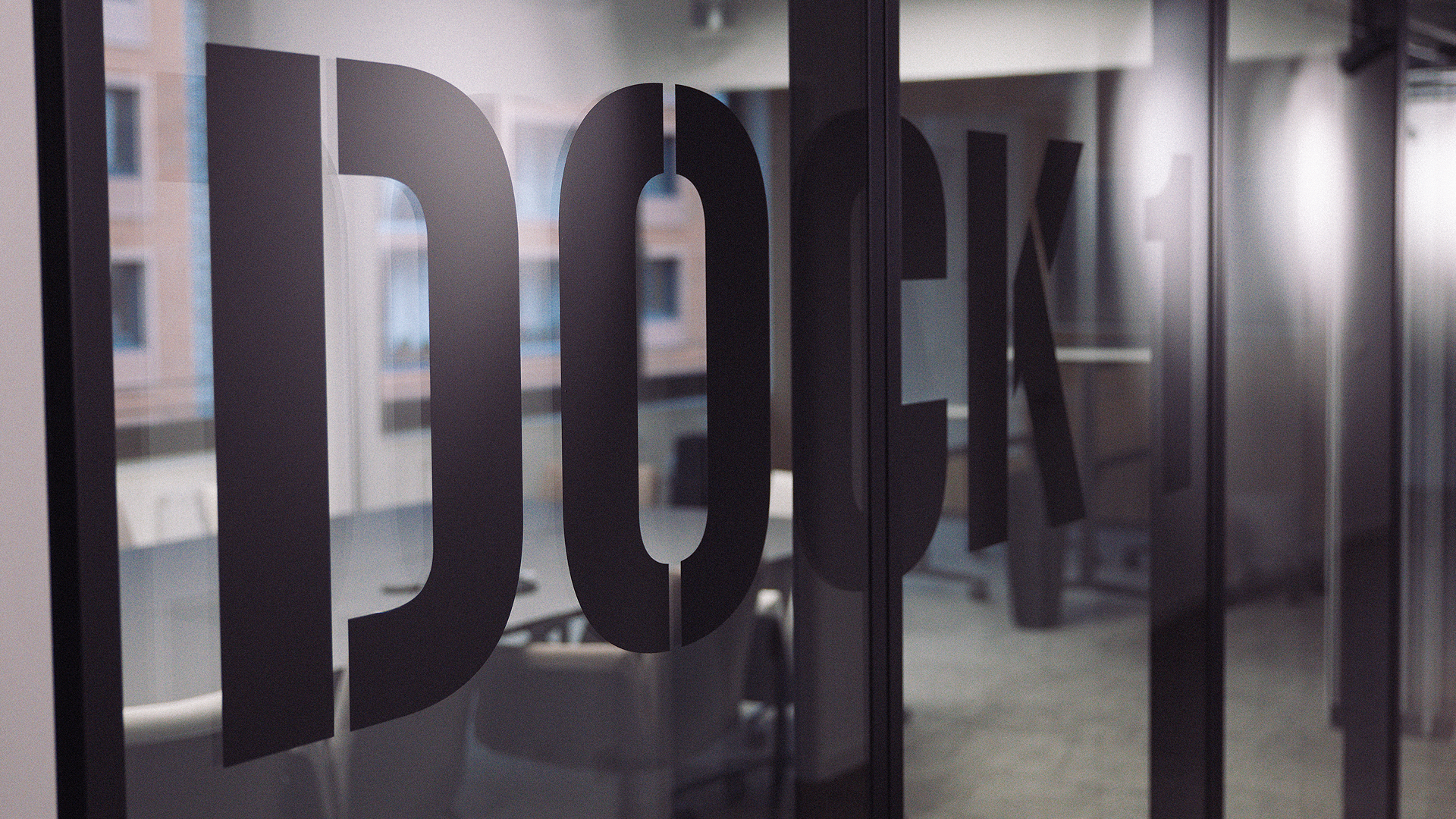 DOCK1
Perfect for meetings, workshops and conferences: 12 seats, 44 sqm, 1 screen (85") incl. Logitech conference system, 1 mobile whiteboard and workshop equipment. Can be extended by Dock 2 using the mobile partition wall, offering a total capacity of up to 30 to 35 people.
DOCK2
Small space for big creative ideas: 8 seats, 22 sqm, 1 Samsung flip screen (52") for digital recording of meetings, 2 height-adjustable, writable tables. Multiple whiteboards, workshop equipment. Connects to Dock 1 through the mobile divider for a total capacity of up to 30 to 35 people.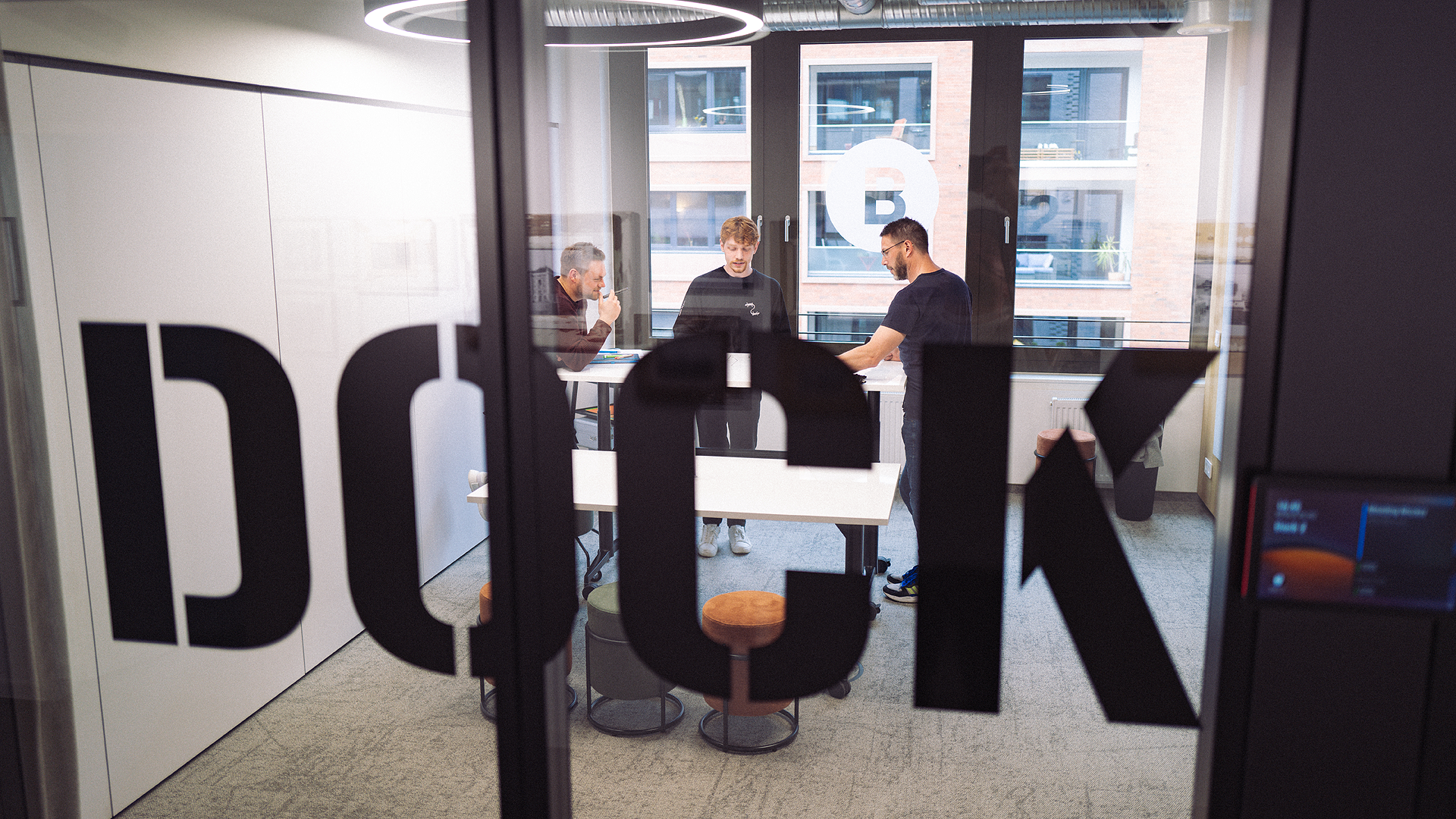 Making it big for once. At Pier 3, the streaming studio at Kaufmannshof, the film careers of tomorrow are launched. Whether streaming, podcasting, video and filming: Pier 3 is a studio with a wide range of possibilities.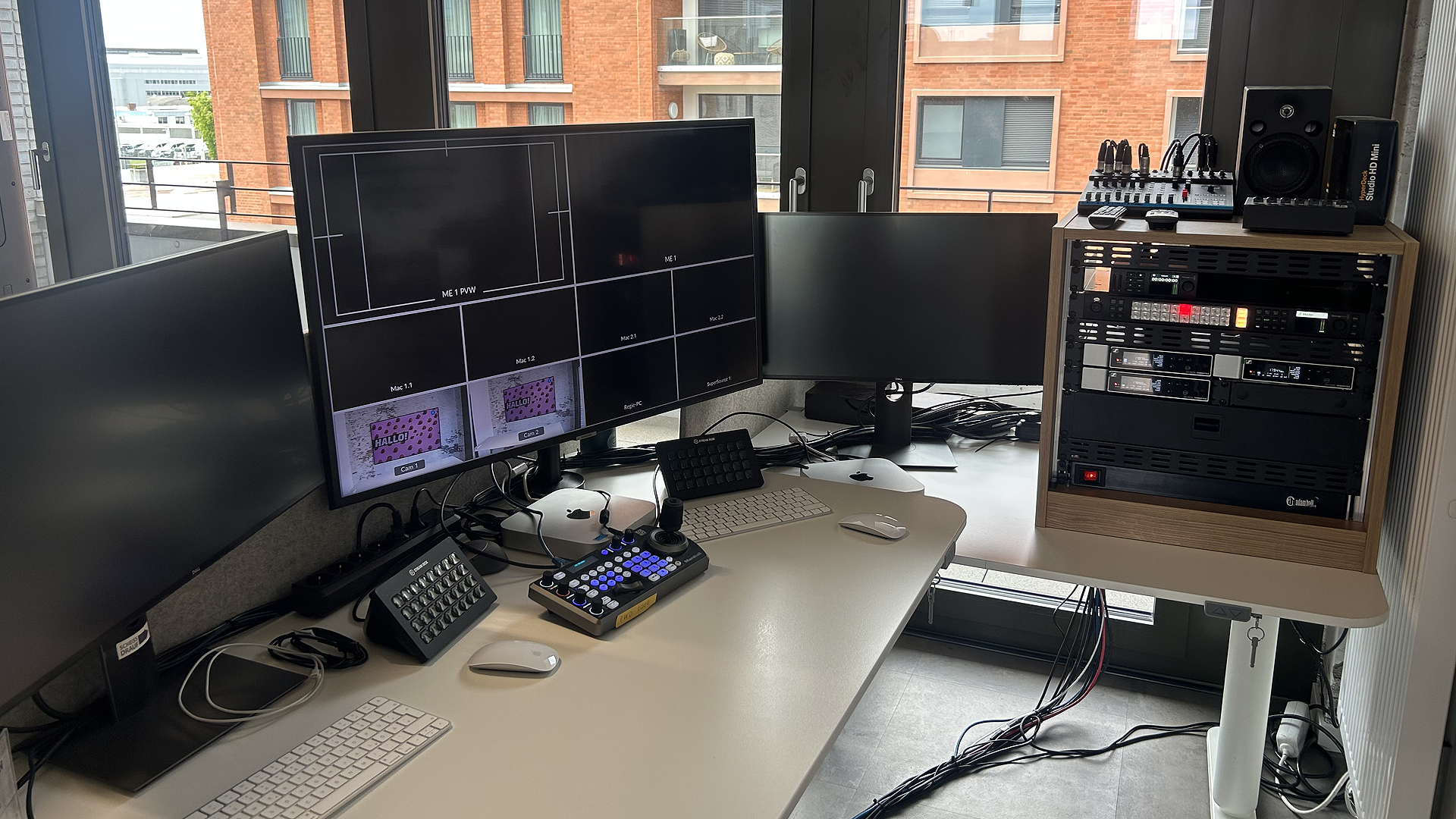 Studio equipment:
Audac M2 mixing console, 9 x stereo in & 8 x stereo out, 2 Marshall CV630 cameras 4K, Audac VEXO110/B & BASO12/B speakers, Sennheiser EW 100 G4 A wireless microphone technology, SMD LED studio light PL-E90D.
Stand above things for a change. Develop new perspectives. Let your thoughts wander. Where? At Kai 17, the new event space at Kaufmannshof. 17 meters above the ground, the Kaufmannshof offers an extraordinary location with a great view from the roof terrace over the Mainzer Zollhafen to the Rhine.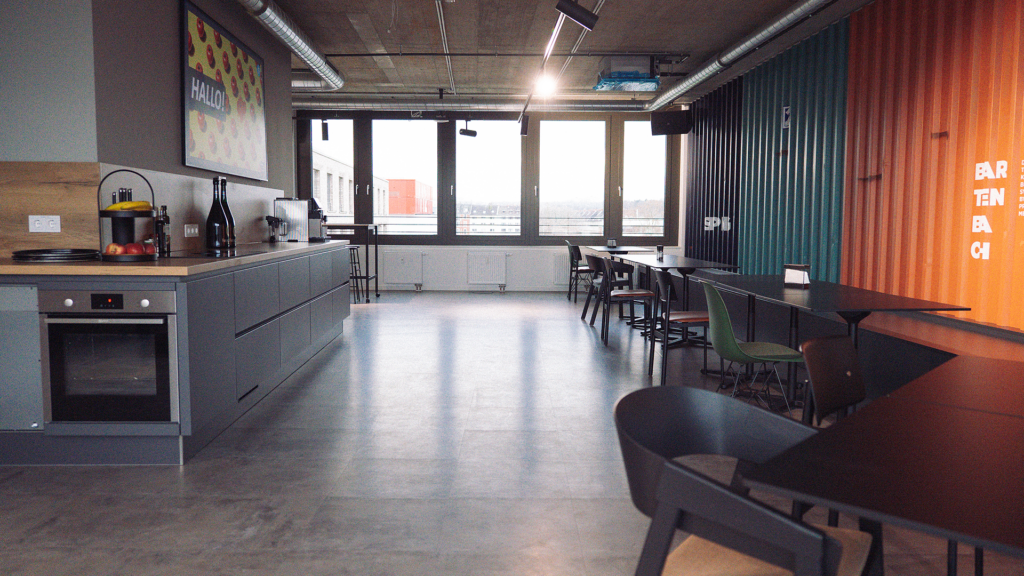 Event kitchen including inventory, 150 sq. ft. floor space, 100 sq. ft. roof terrace, combination with other workshop spaces possible, workshop equipment.
Seating options: Banquet: 5 x tables of 8 or 10
Cinema: 75 seats with grandstand
blackboard: 40 seats
A fully furnished 100 m² roof terrace.
Great view over the Zollhafen to the Rhine.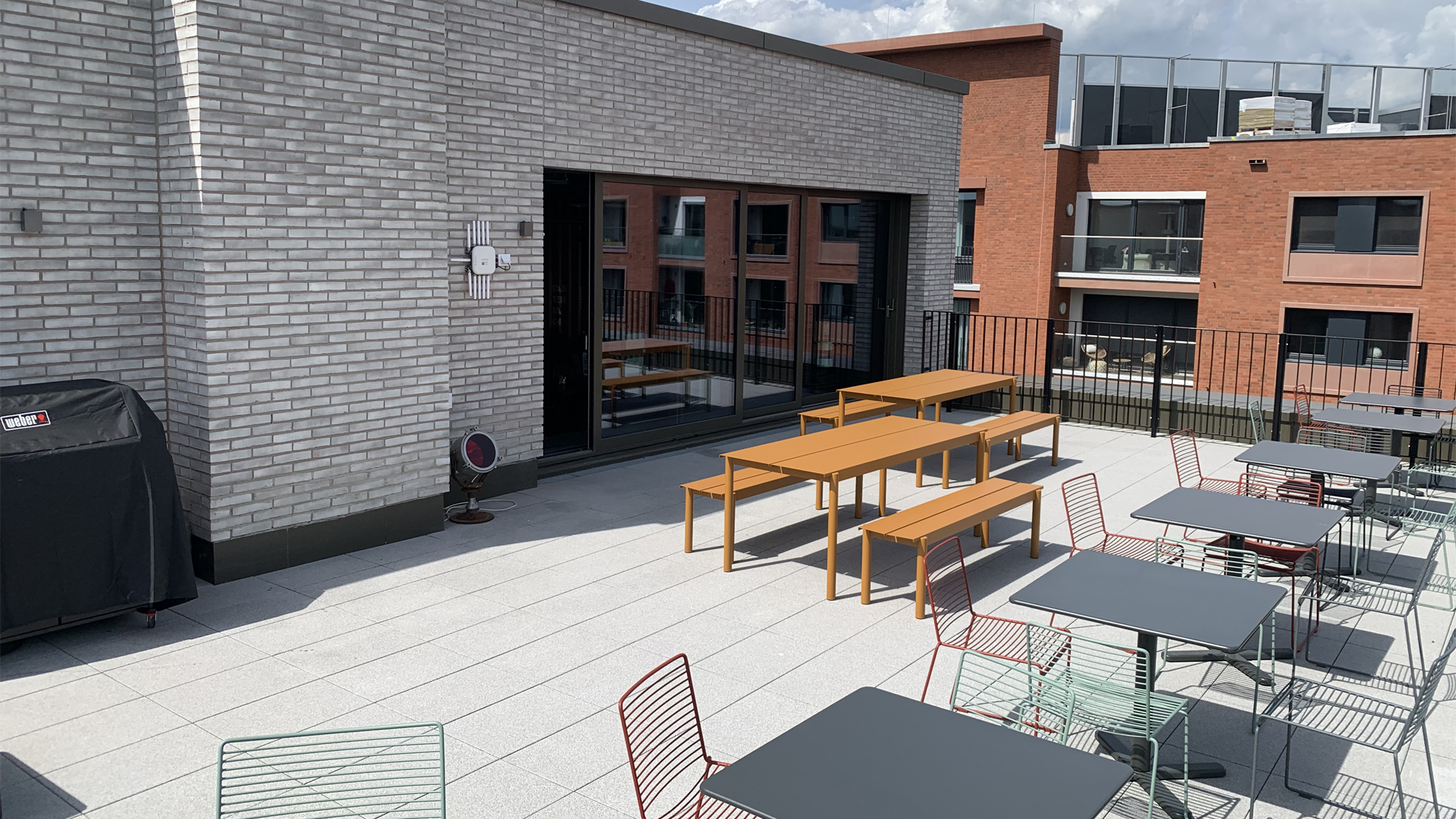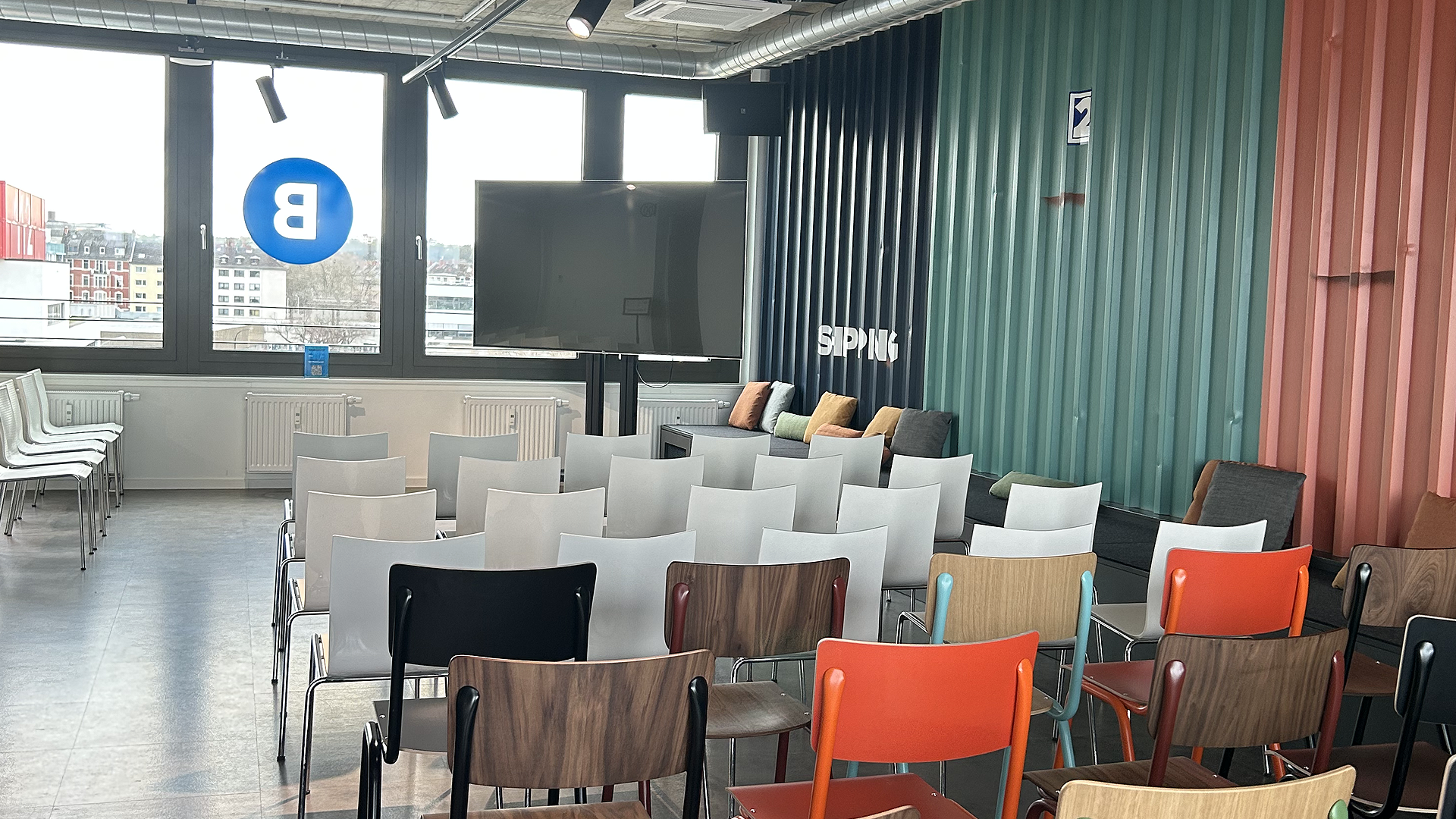 Professional technical set-up:
Sound: AUDAC stereo system with speaker system, subwoofer and mixer, Sennheiser wireless system with two headsets and handheld mics.
Image: Wall screen (85"), mobile screen (85").
Light: Lighting system for ambience and CD-compliant lighting mood.